Knight Transportation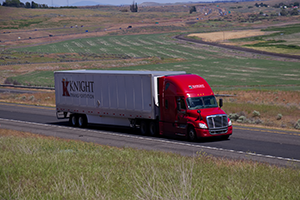 Knight Transportation is an American provider of truckload transportation that offers services in dry van, temperature-controlled, dedicated, drayage, intermodal, and brokerage.
Knight Transportation employs nearly 5,000 individuals and operates a fleet of 4,000 tractors and 8,800 trailers. The transportation company has 29 operating locations across North America and provides services to the United States, as well as points throughout Canada and Mexico.
US shippers will win transportation savings in 2023 bids, but large truckload carriers haven't lost all pricing muscle.